Who we are
Oshwal College is a post-modern tertiary institution located in a serene environment on its own grounds on 2nd Avenue, Parklands, Nairobi. Established in 1992, it is the elder institution of the many nursery, primary and secondary school institutions owned and managed by the Oshwal Education and Relief Board (OERB) – a charitable organization in Kenya.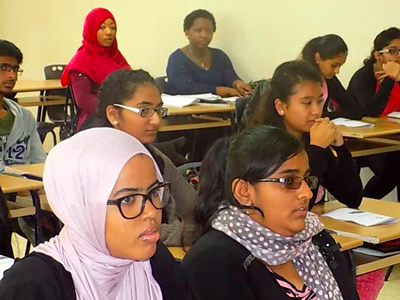 The institution admits students across many nationalities and diverse cultures. Since its inception, the College has maintained a steady growth in the number of programmes in response to the changing market dynamics. Currently, it offers a broad range of professional and academic programmes in the areas of Accounting and Finance, Business Management and Information Technology.
The College's main slogan "Centre of Academic Excellence" serves as a broad guide on how to deliver exemplarily good results. Over the years, the College has consistently produced a rare product-sterling performance. In 2012, Oshwal College was awarded the prestigious global ACCA Platinum Status in recognition of exceptional quality of learning provision and support for ACCA students, a status it has maintained ever since. In fact, of the 115 ACCA platinum institutions globally, 6 regionally and 3 nationally, the College is the 2nd Platinum accredited institution in Kenya. This remarkable performance is also exemplified in Business and IT programmes.
Oshwal College has successfully built and maintained strong ties and relationships with key corporate partners. This has enhanced students' industry awareness and provided student scholarships, sponsorships, internships and job placements. In 2017 the College celebrated its 25 years of academic excellence. Over 5800 students have graduated from various diverse backgrounds of Africa and beyond.